The Village Green Senior Community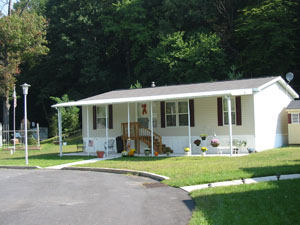 The Village Green Senior Community is dedicated to providing a safe and pleasant living community for those 55 and older. We are located on Route 452 in Media, Pennsylvania, Aston Township. We are a family owned and operated mobile home community that was established in 1937. Our community offers a quiet and relaxed atmosphere for our residents. We are conveniently located to the SEPTA bus route, shopping centers, restaurants, and pharmacies. We have a maintenance crew available to residents 24/7 for repairs as well as emergencies.
Occasionally we have used homes and spaces for new homes for sale within the community. Information about these homes can be obtained in our office. We do not rent homes, all homes are owned by our residents and each resident pays a monthly ground rental payment. Ground rent includes, water, sewer, weekly trash removal, quarterly big trash removal, and snow removal. Lot rental payments differ based on the size of each lot. If you are interested in purchasing a used or new home the procedure is as follows:
You must fill out an Application for Residency, which holds a $85.00 non refundable fee. Once your credit check has been approved you will be notified by telephone and scheduled to come in and meet with the management if you haven't already done so. Upon moving into any home you must pay a $95.00 security deposit as well as sign a lease. Holefelder Brothers, Inc. must also obtain a copy of your Certificate of Occupancy that will be obtained by the owner of the home. Leases are renewed every January. All other sales business is conducted between the owner and the prospective buyer. All homes are on a first come first served basis.
Our office is open Monday through Friday 9:00 AM – 4:00 PM. We are open on weekends by appointment only.
FAQ'S
Can I have a pet?
Pets are welcome in our community. However, we ask that they be 15 pounds or less. Each resident is expected to follow the community rules regarding pets.
Where do I park my vehicle?
All parking is on street. Most homes can accommodate 2 vehicles. If you need more or have visitors you must use the front parking lot.
Can I have a fence?
No, all ground is to be kept open.
Am I responsible for my own lawn?
Yes, each resident is responsible for maintaining his or her lawn.
Am I required to pay taxes?
Yes, each resident pays a school, property, and county tax yearly.